It's a great honour to host Capt Bede Tongs, Military Medal recipient, as he visits us in Dubbo with his son Garry.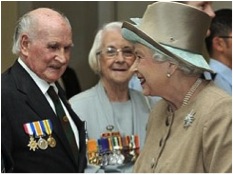 Bede is delighted to share his fascinating and incredible stories of survival on the front line in WW2, in Kokoda, across PNG, and later in the Korean War.
He understands discipline and hard work and says "A positive attitude is essential for survival."
Kerrie Phipps will host a Q & A segment with Bede, to ensure that all attendees have a valuable experience and cover a variety of topics.
Bede has recently published his first book "Poems of an Infanteer in the Firing Line" and is an avid history buff. He speaks at Duntroon Military College and is an honoured guest at many events.
Bede is passionate about helping people, and he encourages young people to hike the Kokoda track, and has recently become an Ambassador of the Kokoda Track Foundation.
Bede has been to Kokoda 8 times, and at 92 is energised and ready to return again this year, in June and November.
Bede will be speaking at some local high schools, and this event is the chance for other veterans, cadets, trekkers and anyone interested in war history and leadership lessons from the frontline.
REGISTRATION ESSENTIAL. Adults $22, Students $15, family $49.
Bede is an inspiring and engaging speaker with unique stories.
Don't miss this opportunity to meet a National Treasure!
Supper provided.
For Group Bookings please call 0409 982 342 ASAP.
To see Kerrie Phipps and Bede Tongs MM in Kokoda, click here – www.kerriephipps.com/category/blog/kokoda